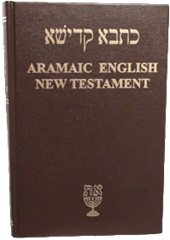 Shavua tov (good week!), fine Tabernacle folks. Judah here.
We are honored to host well-known Messianic teacher this week, Mr. Andrew Gabriel Roth, of One Faith One People Ministries. Roth will be speaking this Friday night and Saturday morning at Tabernacle of David:
Friday, August 1st at 7pm,
~ and ~
Saturday, August 2nd at 11am

At Tabernacle of David
1512 Woodhill Road, Burnsville MN
Mr. Roth is a Jewish believer, author, Aramaic translator, international speaker. A former anti-missionary, he is a man who is now zealous for Torah and Messiah. He is perhaps most well-known for his Aramaic English New Testament (AENT).
Tabernacle of David founders Bob & Jacquie Himango have long been supporters of Mr. Roth and have come to know and trust Andrew Gabriel Roth spiritually.
Come and join us this Friday night and Saturday morning, as Andrew Roth lectures from the Scriptures and edifies the believers in Minnesota.
Hope to see you then!
p.s. Are you on Facebook? Join the Facebook event here.
p.p.s. If that weren't enough, Israeli musician Micha'el Eliyahu Ben David will be joining us for a 2nd time to lead music while Andrew Gabriel Roth teaches from the Scriptures. A double blessing! I'm looking forward to this.